Three part series on the Work of the Holy Spirit in the life of the believer.
Do you want a greater sense of the Spirit of God working in and through your life?
Do you remember those divine appointments used by the Lord to bring you to saving faith?
Do you desire greater boldness and confidence in sharing your faith with those you interact with daily?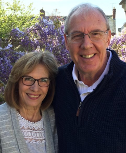 Our guest speaker, Pastor Bob Claycamp of Poimen Ministries, taught on God's work in our lives from the inside out through the Holy Spirit. God's Spirit of Truth works in the believer to convict, fill, empower and seal until the day of redemption.
Click below for full YouTube playlist.