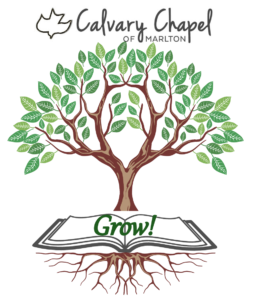 The GROW Class is for believers who want to go deeper into the following topics:
Week 1 – How to Study the Bible In Depth
Week 2 – How to Share Your Faith
Week 3 – What is communion?
Week 4 – The Work of the Holy Spirit
Week 5 – The Gifts of the Holy Spirit
Week 6 – Spiritual Warfare
Week 7 – Last Days Events
Week 8 – Qualifications for Service
This 8-week class consists of both teaching and small group conversation. Growth takes time, but it begins –right now– where you are!
Join us on Thursday evenings 7-9PM at Calvary Chapel of Marlton. We will begin Week 1 on June 15 and finish up with Week 8 on August 24. **There will be no classes on June 29, July 20 and August 17.**
Registration is NOT required.