The women of the church gather approximately every two weeks for prayer and Bible study.  This year we are studying Taming the Giants by Cathy Dickinson.  Come out and join us as we learn how to walk in the victory God has secured for us against the emotional giants we face!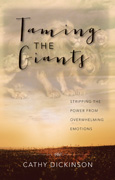 The enemy of our souls has no new tools to provoke our emotions than he did with Adam and Eve. They are still very effective tools and he will continue to use them until we get to heaven. Then, and only then, will the war be over. But today we can walk in victory experiencing the joy, peace, and freedom God has secured for us.
Although these giants cannot be entirely slain this side of heaven, they CAN be tamed.

Studies are held Wednesday mornings from 9:30 – 11:30 AM and Thursday evenings from 7:30 – 9:30 PM.
Please note: Childcare is available during the Wednesday morning study only.
Fall 2017 Dates Coming Soon
For more information, call the church office at (856) 983-1662.